Garage door springs are an essential component on your doors. Be it automatic or manual, no garage door will be able to function without them as they counterbalance their massive weight, using tension that accumulates and releases upon opening and closing. Like most things, springs have a limited lifespan however, which can be affected by many factors surrounding your door, and as such may need replacing or repairs from time to time.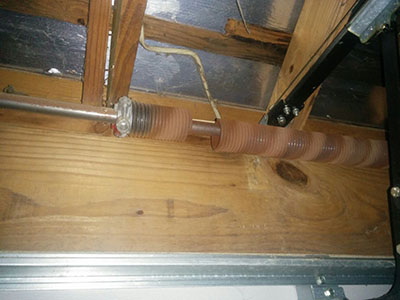 About your springs
Door springs are typically fitted in pairs on opposite ends of the door. This allows them to evenly distribute the weight that they support, sharing the load and ensuring that the door operates in a well-balanced manner. Should even one of the springs fail, it could lead to a gradual misalignment of the door and puts unnecessary strain on the remaining one. A broken door spring also poses safety issues since it could mean that the door is not adequately supported, which may result in injury or damage being suffered to property and people near it.
When there are problems, we are the team for the job!
If your door's springs are starting to show signs of stress, wear and tear, or other debilitating symptoms from galvanic corrosion or rust, then it may not be long before one or both of them are due to fail. When this happens, it is best to have your springs replaced as soon as possible by a qualified technician with the skills and experience needed to get the job done safely and correctly.
So if you are worried about the condition of your door's springs, contact one of our technicians at Garage Door Repair Antioch and speak to us for information regarding our services, advice about your door and springs, or for a quotation.
We are waiting for your call!