We all like to mend different things within our houses. We take the screw driver to tight some screws or put some nails in an old table. It relaxes us and makes us feel useful and creative. Some years ago, when technology was much simpler we could even fix some small damages on our car, our computer or any other domestic device but nowadays most machines and electronic devices need professional assistance since they are much more complicated.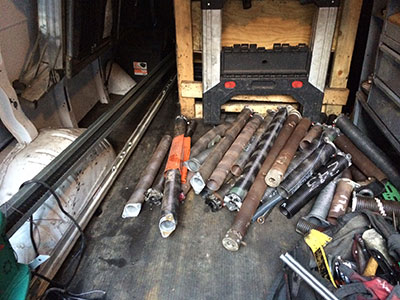 Garage doors are actually very complicated and they are consisted by too many parts, which need special treatment since a wrong movement could lead to the complete failure of the system. We could lubricate some parts and we could have our eyes open in case we sense that something is not working properly but this is as far as we should go. Repairing damages and replacing broken parts could cause us serious injuries. In fact, garage door springs are especially heavy and hard to be installed and therefore it is not recommended to try to fix them on your own.
Whate are Extension springs?
Garage doors may have extension or torsion springs depending on their weight. Light doors carry extension springs while heavy doors carry torsion springs. They will allow your door to stay close when you shut it and open when you open it. Extension springs are placed in single units or in pairs at each side of the door and they are responsible for the door's lifting. They are usually made for a specific height and if you have a taller door the spring will stretch beyond its strength to close the door and hence it will not last for long. Remember that if one of the springs breaks you must replace them both to keep an equal balance.
Replacing broken springs
Broken springs may need much more work than you anticipated since they usually imply broken cables and pulleys. Hence, their replacement is much more complicated and hard and must be performed by professional technicians, who have the expertise and the know-how to deal with such heavy tasks. Besides, you must keep in mind that springs carry the heavy load of your entire garage door, which usually weighs about 400 pounds. Can you imagine the power that springs have and how hard it would be to handle them on your own! Don't take unnecessary risks and call the best garage door repair company to replace the springs, the cables and the pulleys. They are trained and certified technicians, who will also run an overall check on the stability of your door and they will repair any possible damages ensuring the steady performance of your door. They could also install you galvanized extension springs, which are magnificent, even stronger and they last more than ordinary oil tempered springs. In any case, you must make sure that the quality of the springs is excellent because poor quality would mean unstable garage door operation and early spring replacement.